Maddie Bortz 
​(September 28, 1941 - August 23, 2011) is a character in 
​Zachary, Grace and Lexia.
She is voiced by John DiMaggio.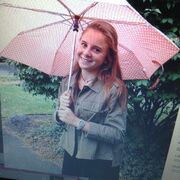 ​Personal details
Born: ​September 28, 1941
Glendale, California
Died: ​August 23, 2011 (age 69)
Glendale, California
​Cause of death: ​Throat infection
​Resting Place: Forest Lawn Memorial Park
Glendale, California
​Death, funeral and burial
Edit
On August 11, 2011, Maddie was rushed to Cedars-Sinai Medical Center in Los Angeles after she collapsed in her home and was later announced that she was suffering from a throat infection. She died twelve days later on August 23 at the age of 69.
On August 29, 2011, her funeral was held at the Little Church of the Flowers in Glendale, California.
She was interred in the Sanctuary of Piety in the Iris Terrace section of the Great Mausoleum at Forest Lawn Memorial Park in Glendale, California.
Gravestone
Edit
Maddie's crypt reads:
World's Greatest
Field Hockey
and Lacrosse
Champion
In addition, her name below it reads:
Maddie Bortz