Beehiveslinger Indian
(October 10, 1941 - September 12, 2001) is a character in
Zachary, Grace and Lexia.
She is voiced by Lauren Tom, along with her twin friend,
Laura Bortz
(October 10, 1941 - February 25, 2015).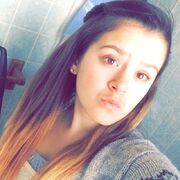 Personal details
Born: October 10, 1941
Oakland, California
Died: September 12, 2001 (age 59)
Oakland, California
Cause of Death: Stomach cancer
Resting Place: Chapel of the Chimes
Hayward, California
Death, funeral and cremation/burial
Edit
On September 2, 2001, Beehiveslinger was taken to Cedars-Sinai Medical Center in Los Angeles after she started vomiting in her home and was diagnosed with stomach cancer and died ten days later on September 12 at the age of 59.
On September 19, 2001, her funeral was held at The Church of the Recessional in Glendale, California.
Cremation/burial
Edit
Beehiveslinger was cremated and her ashes were interred in the Circle of Peace Mausoleum at Chapel of the Chimes in Hayward, California.
Gravestone
Edit
TBA